Homes sold for record prices this spring. Historically, the highest median sales price is usually in the spring and early summer, and then prices tend to drop into the fall. This year, we've seen that same trend occurring nationwide, with the highest U.S. median sale price peaking in May 2022 at $430,126. In California, median list prices peaked at $759,500 in May and June, but have since fallen by about $10,500. Now that we're headed into the fall—a season where both demand and inventory tend to decline—many folks are left wondering if they should avoid selling their home during the "Back to School Season" since they might not get the highest price for it.
As with all real estate decisions, a number of aspects should be considered apart from the national and historical trends in home values. These additional factors include: what city/region you're selling and then buying into, what price tier you're selling in, and what your personal needs and goals are.
Where will you be selling?
According to data from Redfin, Chino Hills home prices peaked in March—before spring even began. Interestingly, Chino Hills has been rising again since June—demonstrating that not all cities experience the "Back to School" home price decline. In fact, historical data tells us that Chino Hills home prices rose in the months of August and September in 2018, 2019, and 2020. Even in 2021, when home prices dipped slightly in September, we can see they rose immediately in October, November, and December.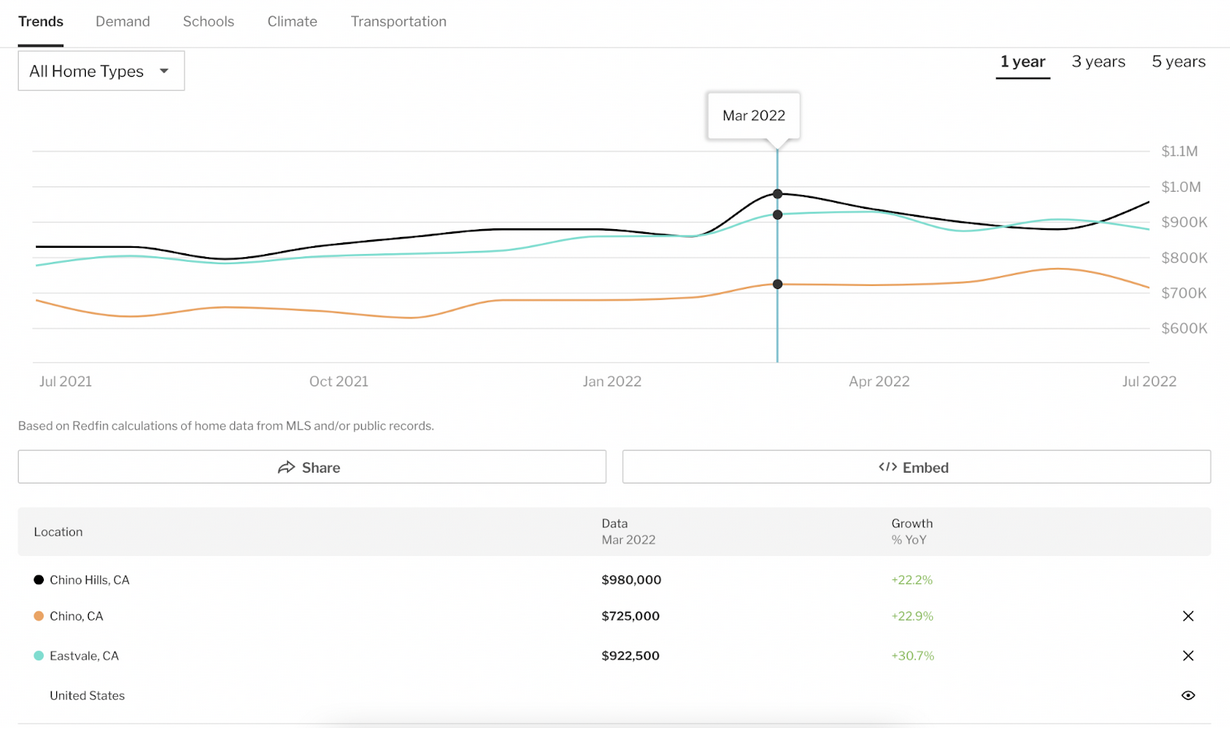 The fact that Chino Hills home prices appear to be going against the typical seasonal decline is likely due to lower inventory and higher demand in the fall for the area. Additionally, the city has a large percentage of households without children, so individuals who choose to buy in Chino Hills are more likely to remain unfazed by the logistical limitations of the school year.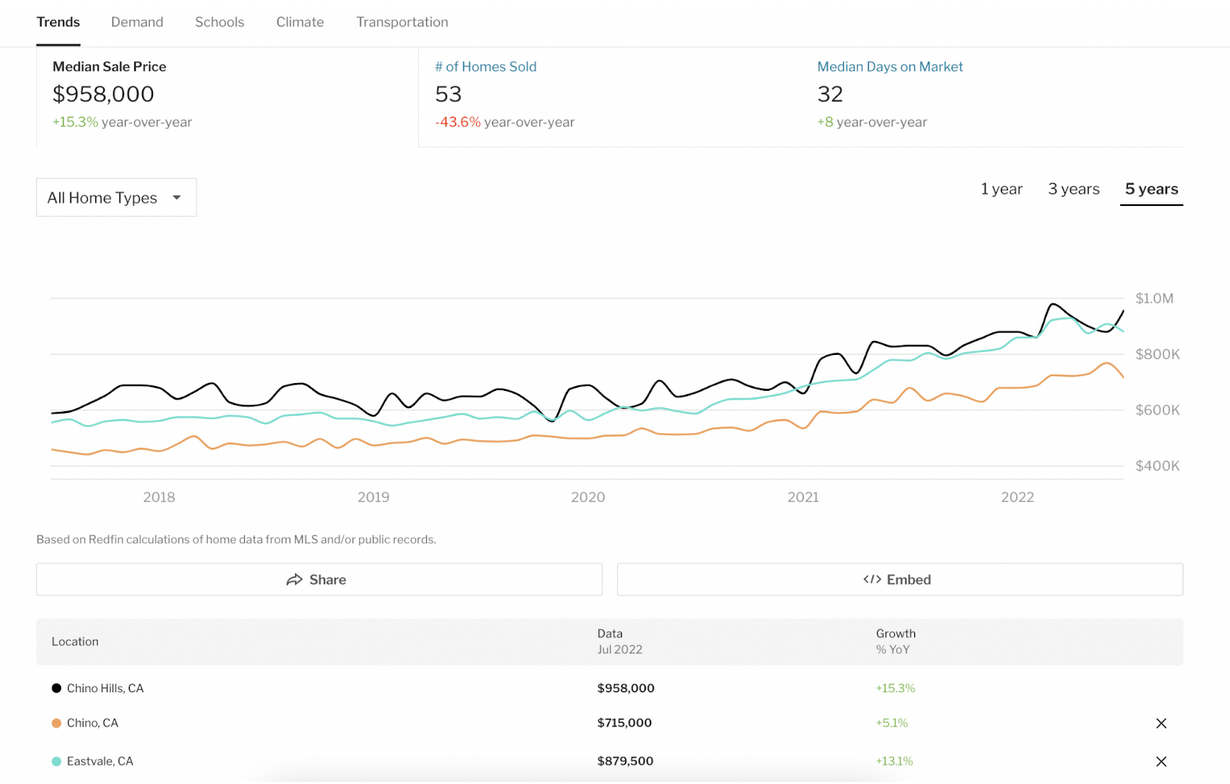 So, if you're in Chino Hills and looking to sell in the fall, chances are you might fetch a price equal to or even higher than if you were to sell it in May. This is not the case in Eastvale and Chino, but those cities, and the rest of California, may mirror Chino Hills' trend in the coming years as the number of households without children has been increasing 1.1% year-over-year in California. So it is very possible that California's housing market may not remain as tied to the school year moving forward as it has in the past.
How do the current shifts taking place in the market affect the situation in the fall?
Yes, prices will likely drop somewhat in the fall, but there are still plenty of eager buyers and you'll still enjoy approximately 16% year-over-year appreciation when you finally do close the deal. No one is losing money selling a home these days, especially with inventory likely to continue declining in August and September (according to projections from Altos Research). Declining inventory keeps demand high and prices from dropping.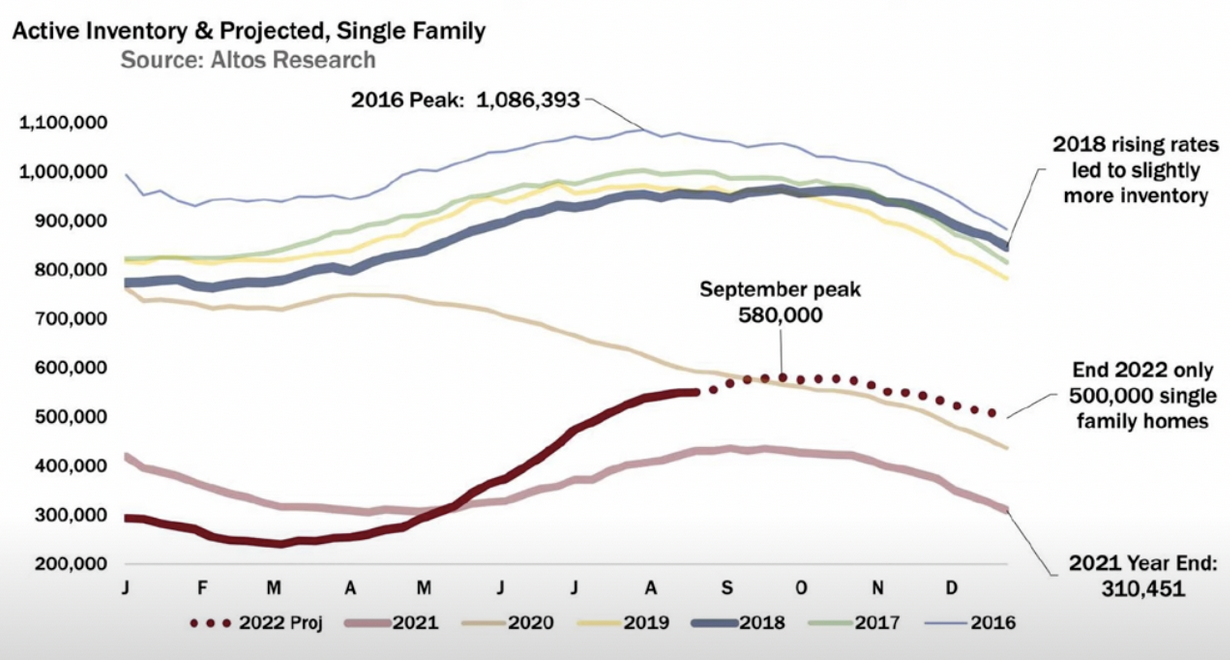 What's important to remind ourselves is how much our perception of "normal" has changed over the last two years. If you remove the context of this record appreciation in 2021 and 2022, you'll see that the environment of the fall 2022 housing market is very favorable to sellers—inventory is low, demand is high, and profits from selling are also likely to remain high.
Which price tier are you looking to sell in?
According to Clare Trapasso at Realtor.com "Starter homes on the lower end of the market are less likely to see price cuts. The competition is generally fiercest for lower-priced homes, especially as the cost of becoming a homeowner has surged." Where price corrections will likely hit are in the middle tiers. Trapasso says the reason for this is that "As mortgage rates continue to soar, second-time buyers who want more space but don't have a big budget may be inclined to stay in their starter homes—and make renovations instead of buying a bigger house. As a result, those homes they would have bought around the median price range might linger longer on the market, ultimately forcing their prices to drop."
Meanwhile, sales of homes in the luxury tier have dropped substantially as of April 30, falling 17.8% year-over-year. Prices in this tier have dropped as well.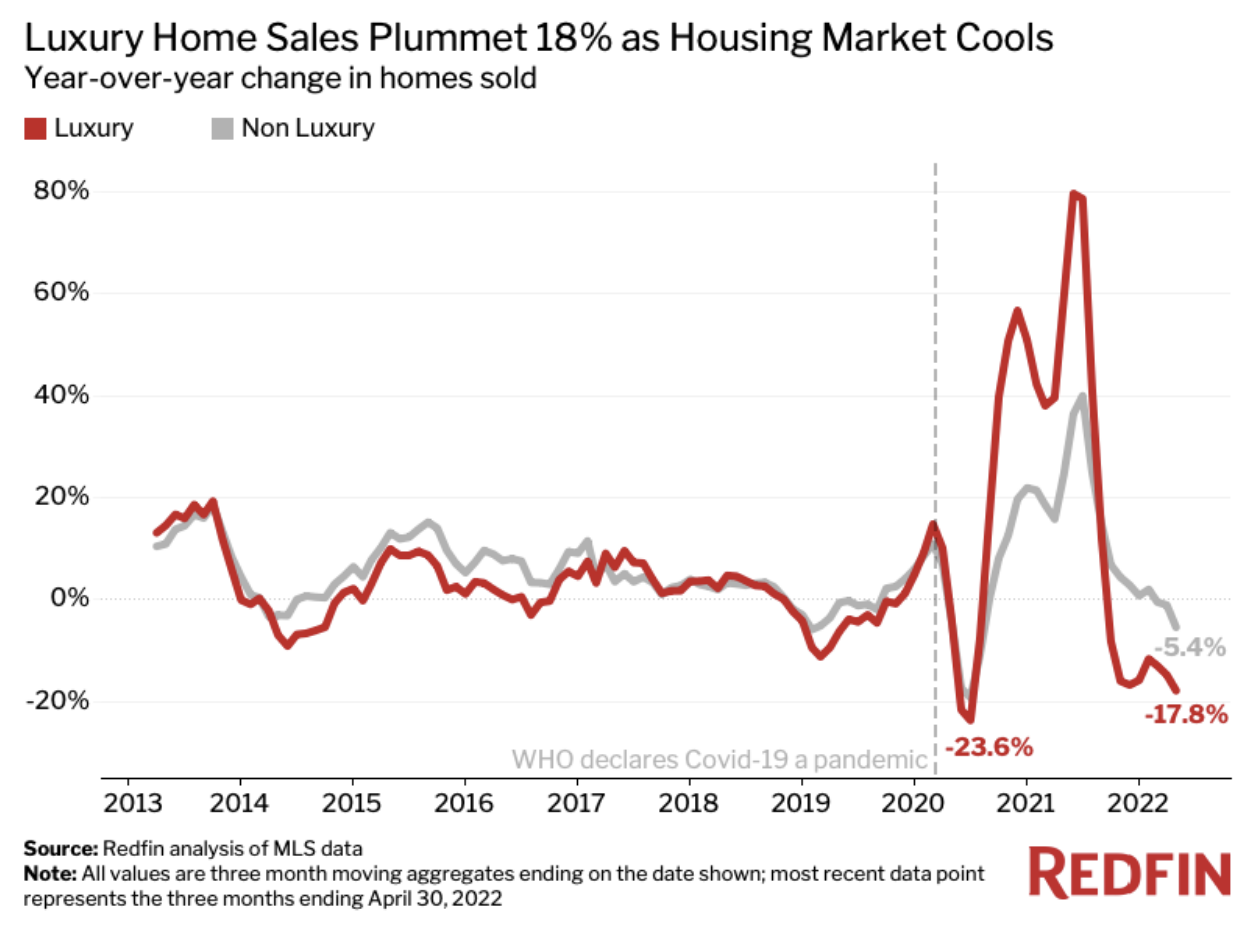 Lily Katz at Redfin explains the reason for the decline in this price tier (defined as the top 5% based on market value), "For a luxury buyer, a higher mortgage rate can mean a monthly housing bill that's thousands of dollars more expensive. The year-over-year cooldown is also a reflection of the market for high-end homes coming back to earth following a nearly 80% surge in sales a year ago." For luxury buyers who make their purchases in cash, recent downturns in stock and crypto have significantly reduced available resources.
Still, luxury home prices have continued growing at rates above pre-pandemic levels—currently rising 19.8% year-over-year, and far exceeding the less than 10% levels that were typical prior to 2020. That growth does have a drawback, though, when it comes to paying property taxes. According to Katz, "the astronomical gains over the past two years mean many homeowners are getting hit with bigger bills since the assessed value of their property has increased so much."
The bottom line: Lower-priced homes will likely see continued high demand and bidding wars in the fall, but demand will drop for middle and luxury-tier homes.
Will you be selling and buying at the same time?
If you're planning to purchase a home around the same time you sell your home, you'll get to enjoy the freedom of less competition when it comes to making your purchase. Especially if you're selling a home in the lower price tier and then buying a home in a higher price tier, you'll enjoy the benefit of high demand for the home you're selling and lower demand for the home you're buying.
When it comes to the actual move, you'll also enjoy discounted prices. According to Moving.com, "With peak moving season behind you, movers will be less in demand than they were during the summer months. For those moving during the fall, this drop in demand could mean lower moving costs and cheaper prices." Additionally, end-of-year sales on typically pricey items such as appliances could help reduce your costs if your new home's appliances aren't included in the sale.
And in California, where the summer months can be especially sweltering, moving in the fall means you'll be packing and hauling furniture during cooler weather.
What are your personal goals?
Often, getting absolute top-dollar for your home may not align with your personal goals. Larger profits will mean you'll have to pay more in capital gains at tax time, so opting to let your house go during a season where it will sell for a slightly lower price might be advantageous if you are expecting to pay a lot in taxes this year.
Additionally, you may have had plans this summer that kept you from listing your home. The enjoyment you got from your summer vacation may have been worth the slight reduction in profits you experience by listing your home in the fall.
You may also just want a less-hectic selling experience and so selling during a quieter season may be worth it to you since you won't have to deal with the summer frenzy.
Whatever your reason for selling this fall, as Realtor.com Chief Economist Danielle Hale says, "The good news is home prices are so elevated that homeowners who have owned for a while are sitting on record levels of equity. This gives homeowners a financial cushion. Even if home prices decline, they'll still likely have equity in their homes."
What moves are you wanting to make?
At Park Group Real Estate we understand selling your home is a huge deal. That's why it's important to choose the right partner—a partner who knows the market and can help you navigate the intricacies of the process. With our team, you'll have peace of mind knowing that an expert is at work getting your home on the market and sold for the best value in the shortest amount of time.
Reach out to us today to get started.
If you're ready to find your dream home in Chino Hills, give us a ring at 909-487-2879 to see how we can help.