Most homeowners who are selling their home also need to buy a replacement property. In this current market where inventory is limited and homes are selling within days, many sellers worry that they may find themselves homeless.
"What if my house sells but I can't find a new one? What if I have nowhere to go?"
These are thoughts that Jenny and Paul had as they considered making a move. Back in 2019, they had bought their current house in Chino Hills. But now with two growing boys, they wanted to upgrade to a larger home with more space for the whole family to enjoy.
After hearing about this fast-moving market, they couldn't help but worry about timing the sale of their home. They knew that they wanted to use the proceeds from the sale to put down towards their new dream home, but were anxious about the whole process.
So when Jenny and Paul reached out to me with their concerns, I walked them through the solution that helped many of my clients who were in their exact same shoes. The plan was simple. We would list their home and put the contingency in place for them to find their replacement property. (This meant that they would only have to sell their house if they found a new home to move into.)
With their hearts at ease, we launched the home into the open market. Using innovative marketing strategies, we were able to attract tons of buyer interest. And within 5 days, we were in escrow for $100,000 over the original list price. Of course, we included the contingency in the contract, and even negotiated a free rent back period for Jenny and Paul to have plenty of time to find their new dream home.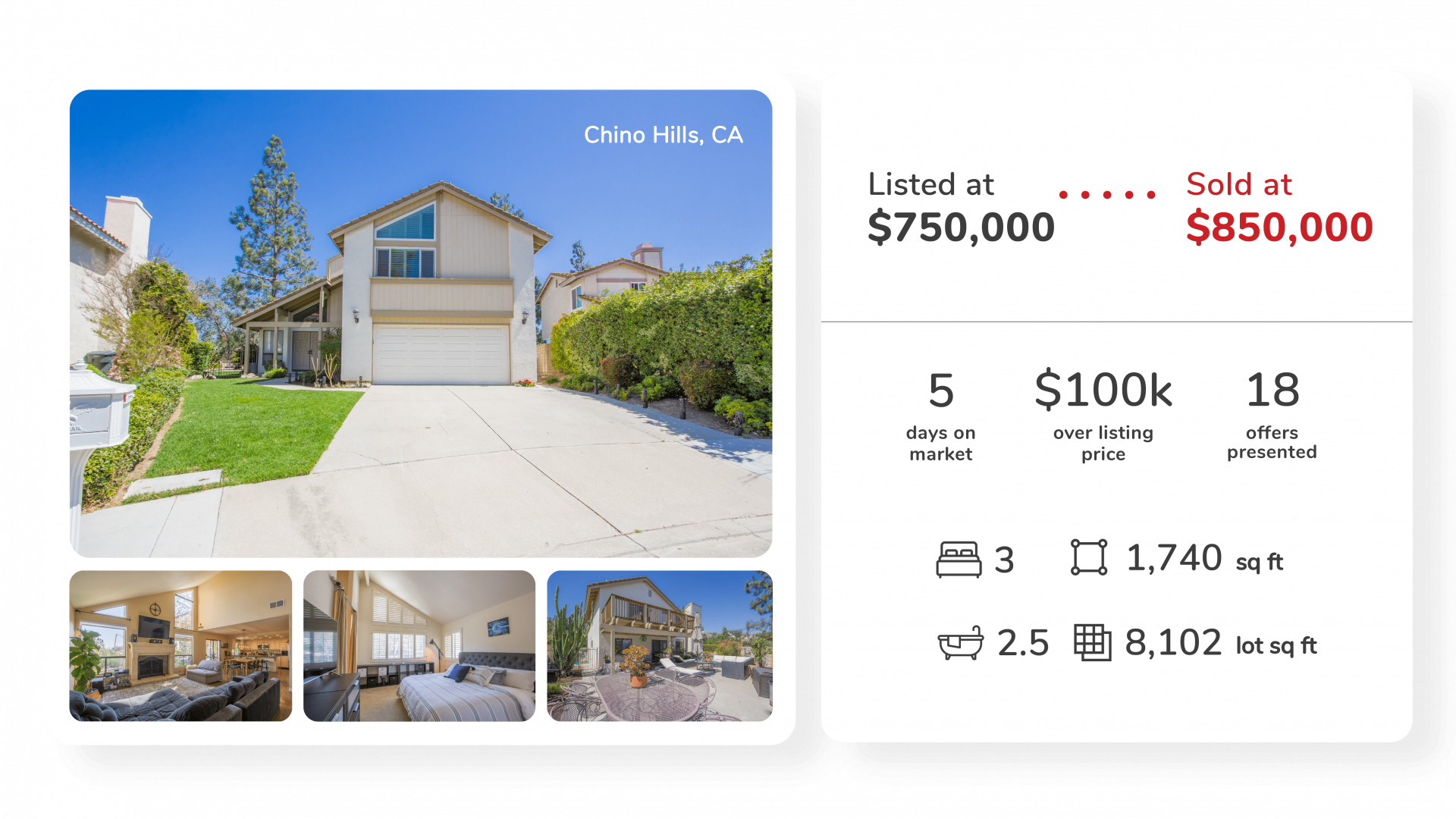 A week later, we found it - a gorgeous turnkey pool home that was nearly double the size of their current house! It was absolutely perfect for their family.
Selling and buying at the same time seems hard and overwhelming to many homeowners. But with the right information and the right guidance, it doesn't have to be!
*Disclaimer: All names used are fake, but the stories are most definitely real.
Let's find yourdream home!
Schedule a no-obligation call and let's get started!