Welcome to the year of 2023 - where cars can drive you to your destination on auto-pilot, cryptocurrency can make you a millionaire overnight, and companies can deliver orders to your doorstep via drone in 30 minutes.
In other words, we live in a world today that is vastly different than the one we lived in 20, even 10, years ago. 
The sad news is, it seems like the majority of the real estate industry is still settled at the same standards it has been since the early 2000's. 
But this year, our goal is to change that.
Property photos, For Sale signs, and MLS listings are just the bare minimum, but most people don't even realize that they should be getting much more from their realtor. 
While all aspects of customer service are important, today we're diving into 5 areas you should especially be on the look out for.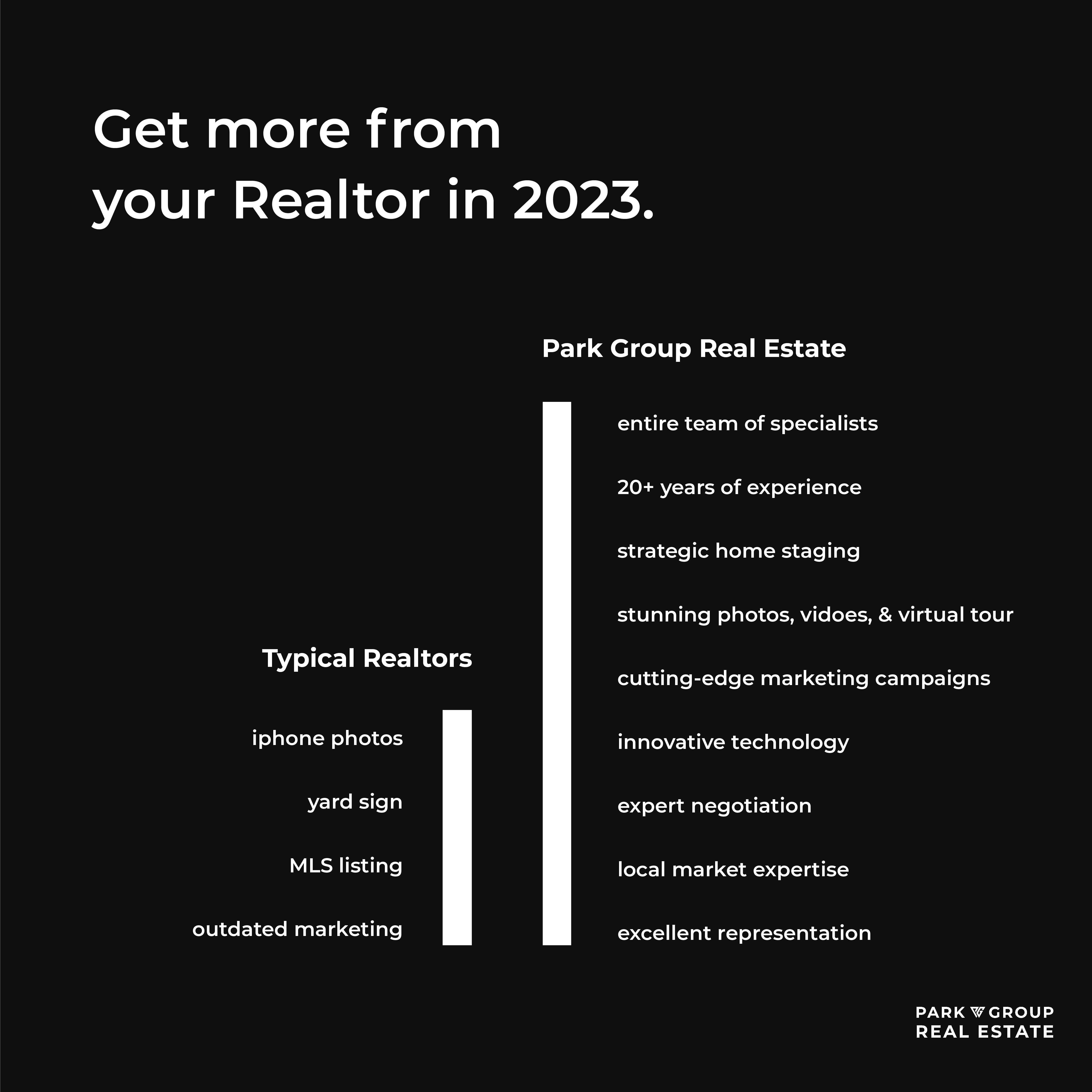 The biggest difference between mediocre negotiating and expert negotiating is the motive behind it. 
If your agent truly had your best interest at heart and considered you their top priority, they would negotiate aggressively on your behalf, without you even having to tell them to. Too often we've seen agents miss great opportunities for their clients because they settled for just "good enough" and they weren't willing to go to bat for them.
There are multiple times in a transaction where agreements must be made between the two parties. (Think contract terms, repairs, credits, etc.) And for most, those are the moments that feel the most stressful and overwhelming. Whether you are a buyer or a seller, wouldn't you prefer to relax in the comfortable backseat, fully confident that your agent is giving it their all at the negotiation table and fighting to get you the best possible outcome?
That's why at Park Group Real Estate, we hold our team to a higher standard. Because YOU are our #1 priority, our agents are constantly sharpening their negotiating skills through team trainings, 1 on 1 coaching sessions, and real life experiences.
Find yourself an agent who will have your back and win those battles for you.
According to Redfin research, the median home price across the whole United States in November 2022 was $393,756 and the median days on market was 37. If we narrow it down to just Chino Hills, those numbers change drastically to $667,500 and 17 days, respectively.
While it's important to understand the real estate market as a whole, there are several key reasons why your agent should be an expert in the local market. To start, the market can completely shift in the span of a few weeks. And if your agent isn't aware of what that change looks like in your target area, you could be missing out on huge opportunities. 
For example, during the pandemic at the height of the buyer frenzy, almost every home on the market saw hundreds of buyers lined up for showings, 25-30 offers on the table, and was going under contract in less than 4 days. Once May 2022 hit, the market suddenly cooled. If your agent didn't recognize this shift, you would have most likely been in one of two situations. As a seller, you would have overpriced your home, expecting the pre-May results, then sat on the market for 4 weeks going through price reduction after price reduction; as a buyer, you would have overbid on a home, thinking you had the same competition as before.
Local market expertise doesn't just end at knowing the price trends and market temperatures of that area. It also means knowing the local requirements and laws during the transaction (like city inspections that are necessary when transferring a property, building and tax regulations, natural hazard zones, etc.) and knowing the neighborhood like the back of their hand. You might not know the area very well, but your agent should.
One of the most common complaints we hear from clients who weren't satisfied with their previous agent is "I could never get in touch with them." Unfortunately, even as realtors ourselves, at times it's near impossible to get in touch with our fellow peers. So we completely understand your frustration when you have questions but no one to answer them right away, or a house you want to see but no one to show it to you before the opportunity passes.
That's why we believe that great communication is the foundation of excellent representation. After all, how could you represent someone you don't communicate with? This goes beyond just answering questions and scheduling showings for you. It's about being a source of value and information for you to rely on. It's about taking the time to sit down and understand your needs and wants, so that during every step of the transaction, we can fulfill our duty as your representative - and continue to give you updates throughout the whole process.
For us, excellent representation starts with a mindset of constantly trying to improve our service to our clients. This means taking the time every day to study what's happening in the real estate market, innovating our systems and processes, constantly collaborating and training with the team, and connecting with knowledgeable professionals so that we can point you to the right resources if it's out of our area of expertise (like contractors, title, escrow, home warranty, etc.)
Cutting-Edge Marketing Campaigns
Since the first real estate newspaper ad in 1704 to the property flyers that once covered the windows of every local real estate office, marketing has always been a part of the industry. But in today's golden era of technology, marketing has taken on a whole new meaning. 
Gone are the days when taking a few cell phone photos and uploading it onto the MLS will sell your home. According to the National Association of Realtors, 97% of homebuyers search for their home through the internet. With the online platform growing more and more crowded by the day, it's getting harder and harder for sellers to get their home to stand out and attract buyers.
That's why outdated marketing practices are no longer going to cut it. You need cutting-edge marketing campaigns that will cut through the crowd and shine the spotlight on your home. Our team does this by getting creative with our in-house marketing team (named top 1% in the nation) to generate an online buzz around your home on all social media platforms, creating custom webpages, beautiful HD photo galleries, and property tours, and emailing our database of 10,000 active buyers to find a potential match.
Some agents could argue that you could still sell your house without going through all that "trouble". Sure, you could sell your house. But could you sell your house for the price you want, in the timeframe you want, with the terms you want? We don't think so.
Entire Team of Specialists
When you hire an agent at Park Group Real Estate, you don't just hire one person. You're starting a partnership with an entire team of specialists who are ready to assist you in every possible way. 
With 7 highly trained agents, our team works together. If for some reason, your agent is not able to show you a home during the one day you have off of work, or hold an open house for your property this weekend, another agent on our team will step up to fill the role. Not only that, but having a working broker encourages our team to thrive under great guidance and mentorship - so that they can provide you with the professional expertise built on 20+ years of experience..
Our trusted lender partners are in our office full-time, always updating the agents on the latest mortgage news, changes in interest rates, and advice on specific scenarios. Working with our lender partners in-house allows us to provide you with a full support system and facilitate a seamless transaction (whether it's for a home purchase or a refinance). And the same goes for our marketing department.
It's important to take all of this into consideration when choosing your next agent. Hiring a team (versus a single agent) means having a stronger army who has your back.
Want to connect with a team that will meet those new expectations?
Schedule a call with us today!
Don't face the challenge by yourself.
Let us take the burden off your shoulders. Call 909-696-6540 to connect with us!