With Thanksgiving and Christmas right around the corner, we're now racing towards the end of 2023. It's been an interesting ride in the real estate world so far this year, and Quarter 3 was no different. Let's take a look at what the data showed.

As a homeowner or a homebuyer, it's equally important to stay up-to-date on the local trends. Whether you're looking to make a move now or in the future, being armed with the right knowledge will help you make educated decisions and strategize more effectively when the time is right for you. 
Total Number of Homes Sold: 152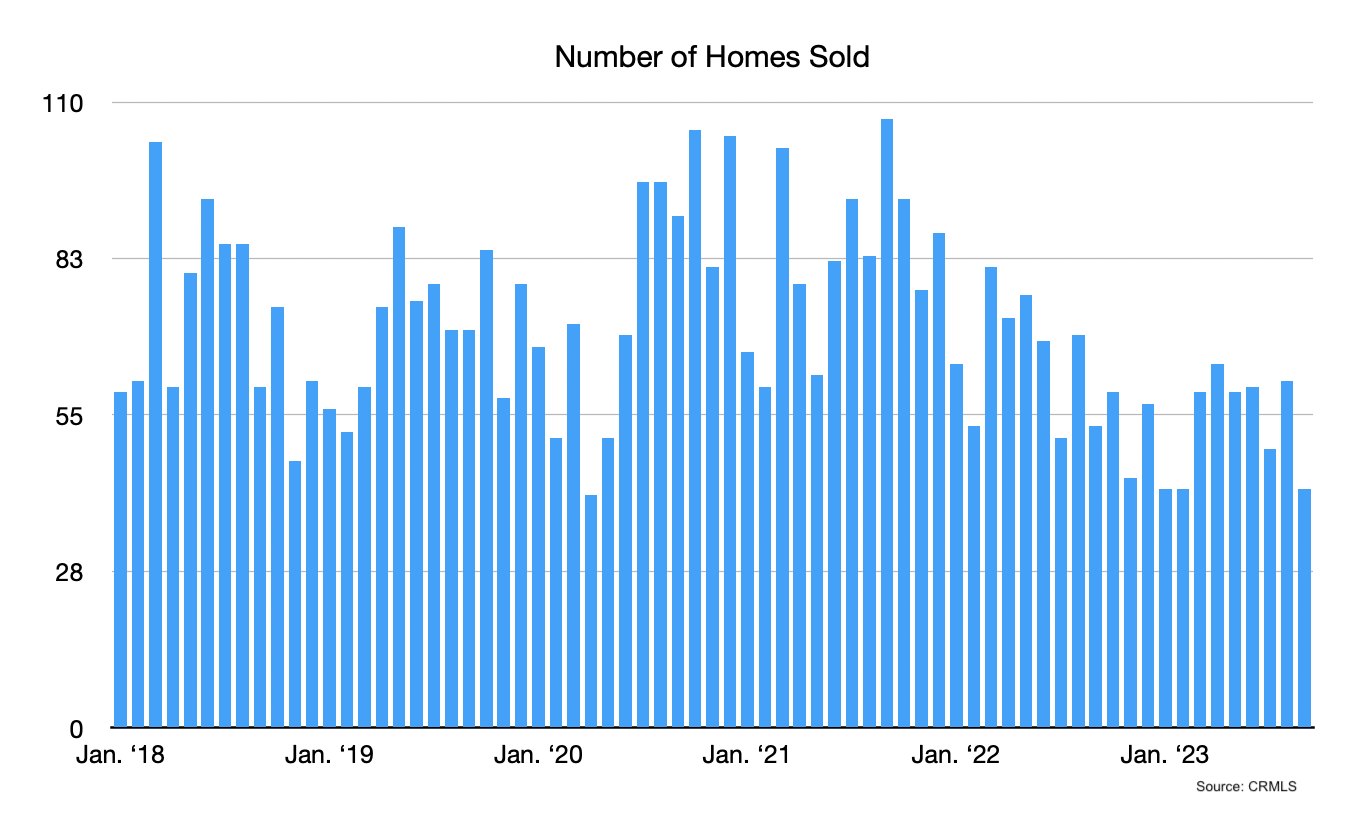 Between July and September, there were a total of 152 homes sold in the city of Chino. Compared to last quarter, that number dropped by 30, but it's to be expected around this time of year. 

The spring and summer months are typically the hottest in the real estate market, with many people taking advantage of the sunnier weather and out-of-school break to make their move. When buyer activity wanes closer to the winter season, it's only natural that the number of homes sold will begin to decrease. As the graph above shows, sales have historically dropped right around this time of year.
Total Number of Active Listings: 365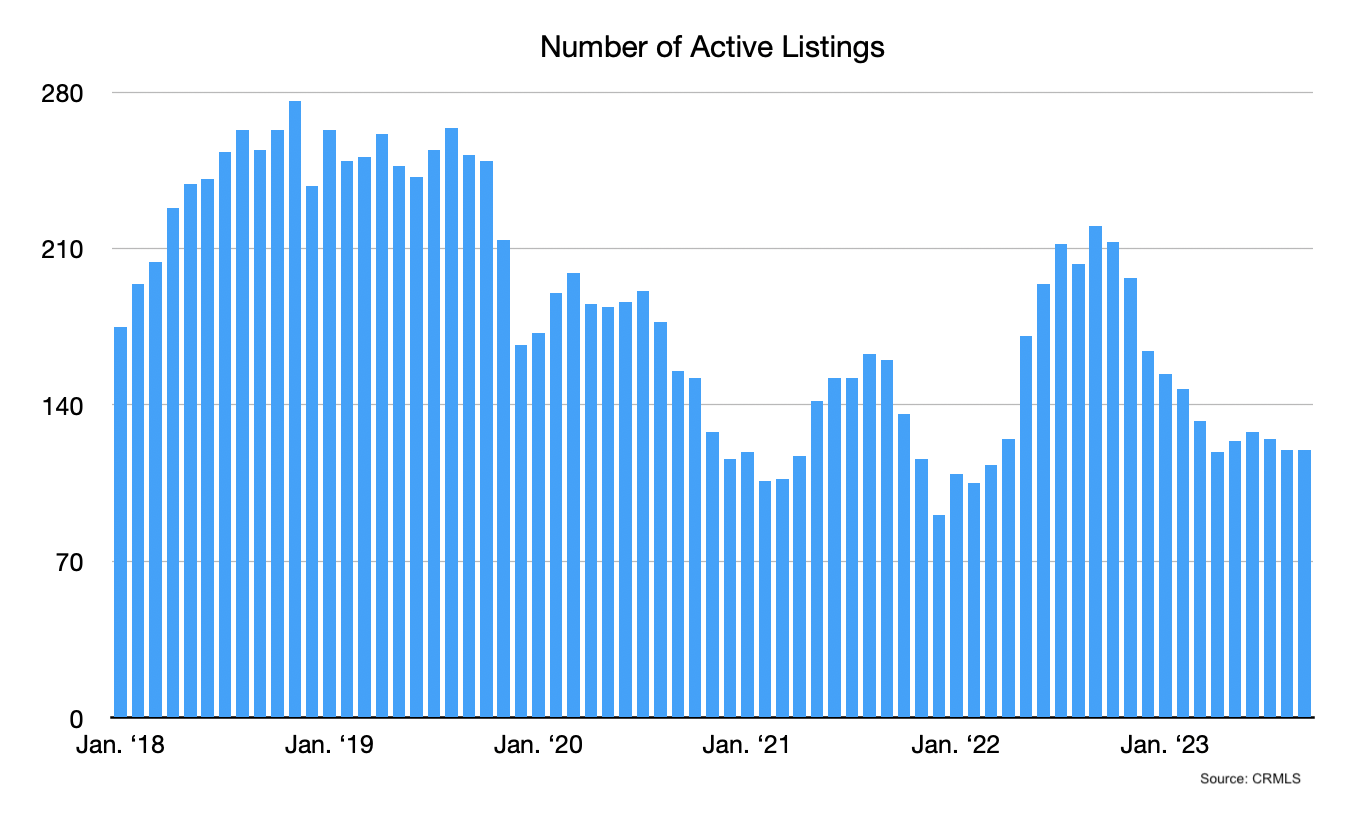 There was also a slight dip in the total number of active listings. Quarter 2 had a total of 371, while Quarter 3 had 365. Since the pandemic brought about the "unicorn years" of real estate, inventory has yet to return to "normal" levels. We are still experiencing a major housing shortage, especially with so many homeowners reluctant to move because of the mortgage rate lock-in effect. 

This goes to show that we most likely won't be seeing a market crash in the near future. Not only are the market conditions, lending regulations, and foreclosure activity all drastically different than they were during the 2008 crisis, but the current housing shortage also provides a thick buffer. Even if a flood of homes were to go into foreclosure, the market would be able to absorb the impact since there aren't enough homes to meet buyer demand.
Average Days on Market: 34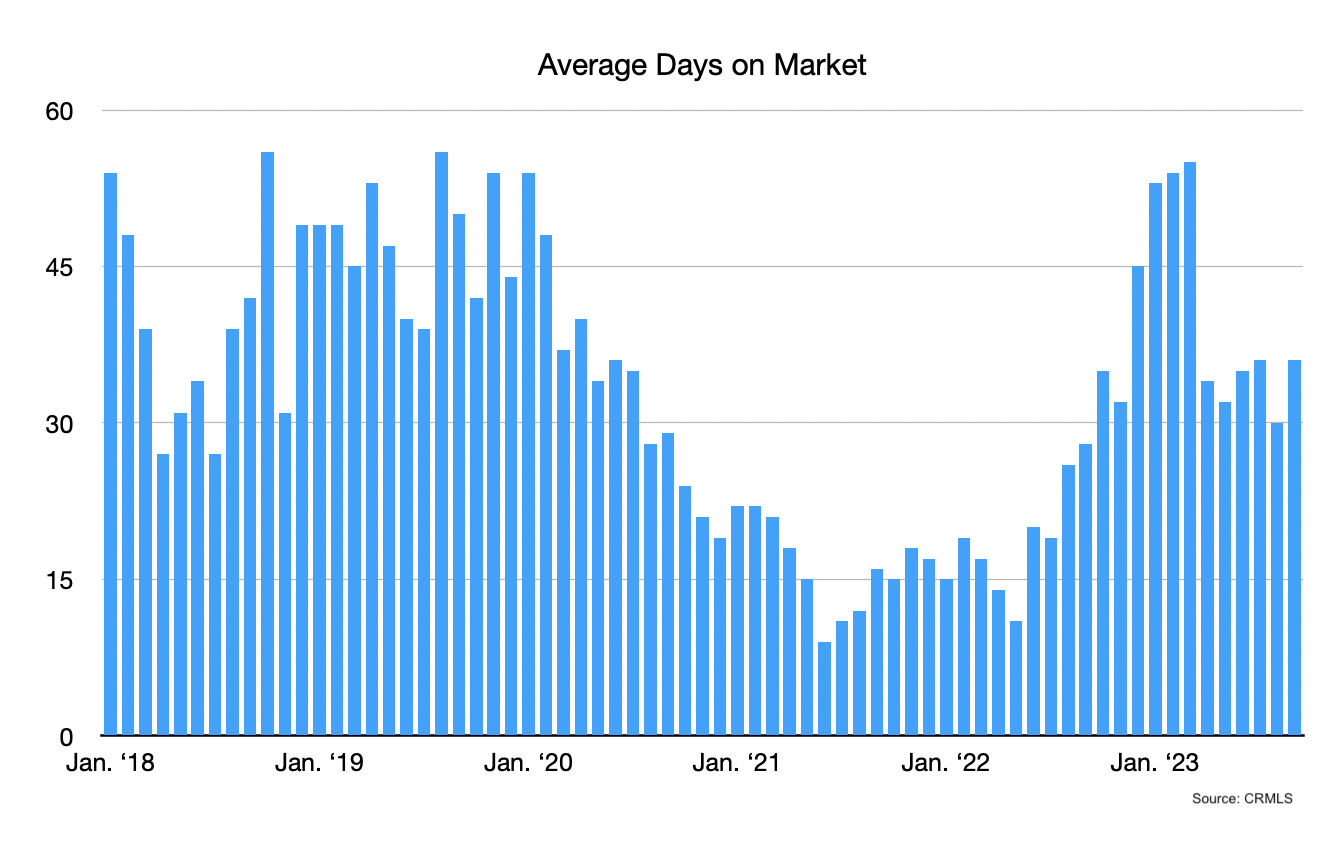 For the past few months, the average days on market has been hovering right around the mid to low 30's. With inventory still scarce, homes that are available have been going under contract at a quicker rate. 

At the same time, it's important to understand that pricing has a big impact on these statistics. For example, homes that are priced aggressively will typically sell much faster, while overpriced homes tend to sit on the market, raising the average DOM. 
Average Home Price: $738,022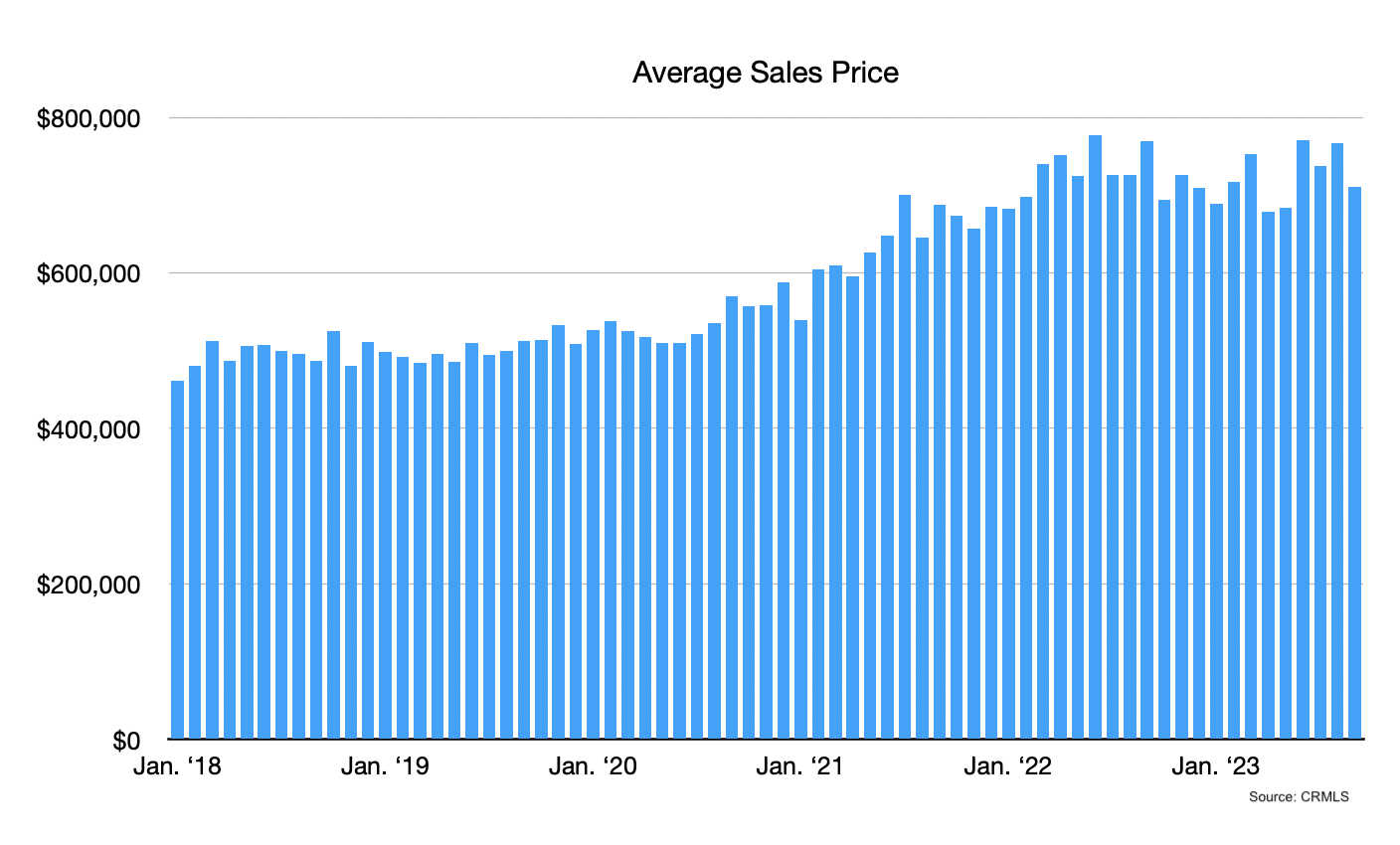 The average home price in Chino for Quarter 3 was $738,022 - $27,063 higher than last quarter's average of $710,959. Considering that the average home price in Q3 of 2018 was just $494,276, it's incredible to think how much equity most homeowners are sitting on today.

Generally, home prices in California will always go up. It's just a matter of how quickly. During the winter months, appreciation decelerates as a result of the slowdown in market activity. And contrary to the picture the media paints, home prices don't show signs of coming down any time soon.

The Federal Reserve has continued their focus on the fight agains inflation through Q3 of 2023. They raised rates by 25 basis points in July to increase the Federal Funds rate between 5.25% to 5.50%. Though the September meeting held rates where they were, rates continued to gradually increase from July through September with mortgage rates being in the 7%. The average 30-year fixed rate hit a peak of 7.31% at the end of the quarter.

While the Fed has announced that there could be one more hike before the end of the year, there is growing sentiment from the Fed members that another hike may not be necessary.
So What Does This Mean for You?
In conclusion, Quarter 3 of 2023 reflected a strong seller's market for the city of Chino. The average days on market stayed steady around 34 days, while inventory levels remained low, continuing the home appreciation. Interest rates continued to rise through Q3, but good news may be coming for buyers, as it looks like the Fed may put a stop on the rate hikes for the year.

As a seller, low inventory creates a huge demand around your house and presents a great opportunity to get top dollar while there's less competition. With the right marketing and pricing strategies, you may be able to sell your home faster and at a higher price.

As a buyer, we know this market is a tough one to face. But don't lose hope. Despite the market conditions, there are many different solutions you can explore. The key is partnering with the right agent and finding the strategy that works best for you.

Keep in mind that as critical as it is to know the real estate market as a whole, it's just as important to understand exactly how it affects you. Everyone's situation is different. Choose a knowledgeable agent who is an expert in your local area and can help you customize a game plan that fits your unique scenario and aligns with your specific goals. 
Want a market report for a different city? Curious to see how this information affects your unique situation? Have more questions about the real estate market? Whatever the case, we're here for you! Schedule a call with our team below.